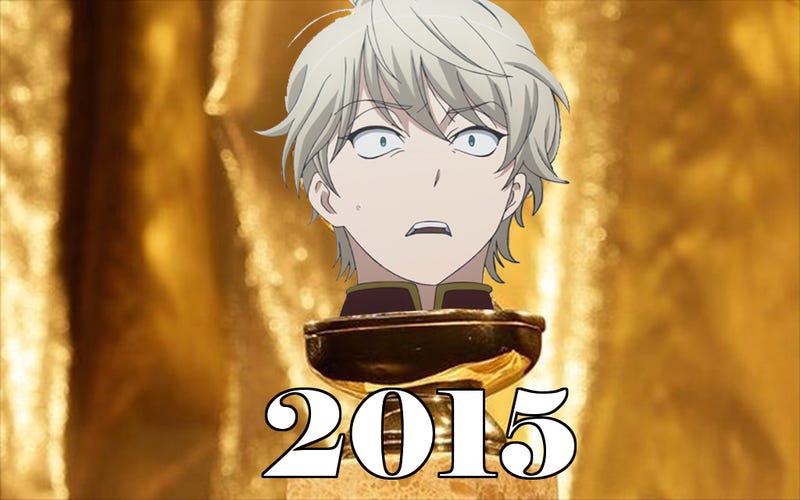 We, The Animasochists, in order to form a more terrible experience, establish injustice, ensure viewer displeasure, provide for the public offense, promote the general dissatisfaction, and secure the curses of infuriating anime to ourselves and our readers, do ordain and establish this article for The Animasochists.
---
**SPOILER ALERT* *NON-SERIOUS POST ALERT* *SPOILER ALERT**

---
5) Ninja Slayer -
4) KanColle - An incredibly popular game with fun characters and open potential for a variety of possible stories… and they manage to sideline most of the characters and tell a story the world has already seen. Tell it badly. Very, very badly. It is perhaps telling that the most popular episode is the one which has nothing at all to do with the actual plot. Wankers.
3) Asterisk - Asterisk had an amazing budget and a halfway decent source material, and introduced much more awful fanservice than the originals ever had at the expense of what little meaningful story it ever had. Its immediate contemporary, Chivalry of a Failed Knight, blew it out of the water in every way, often having similar situations with MUCH BETTER HANDLING in the same damn week.
2) Tokyo Ghoul Root A - The second season of Tokyo Ghoul consists of 92% filler (via AnimeFillerList). The first episode is the only one that remotely follows the manga. But even if you haven't read the manga, it's still crap. To illustrate this point, one of us watched this and thought "wow, this story can't have gotten this bad. I'm going to go read the manga." To put it lightly, the show has so much filler it makes Naruto looks like a faithful adaptation (in all honesty, it 'follows' the manga, if you count conflating 3+ events into 1 on multiple occasions, as well as leaving out entire arcs that were crucial to the main plot, including the ending).
1) Dragonball Super -
TOEI WHYYYYYYYYY?!
LOSER: Tokyo Ghoul Root A - Tokyo Ghoul was a hit in Summer 2014, which was poorly followed up by this monstrosity of a failure. While still technically following the same storyline as before and continuing the narrative, Tokyo Ghoul Root A blatantly disregards the things that made the first season so great - worldbuilding, character development, and good writing - and uses the extra screen time on things that make you think "Wait, why is Kaneki such a prick out of nowhere?" and "Who are these people that keep getting introduced?" The ending, which is an 'ending' only by definition - the place where it ends, is by no means a resolution or even a logical place to take a break. The writing overall focuses on trying to make Kaneki's struggles (in the few times he shows up for any significant reason) seem like an angsty teen who is dark and brooding - and basically Kylo Ren in a way - instead of explaining the characters being introduced, the reasons for the previously introduced characters, or the various complexities of ghoul society. In fact, the writers decided to end the series just before the final arc of the story starts. (Yes, you have to read the manga to know that particular level of detail, but even without it, you can tell that it ended in a bad place - aka right before the main fight between the two strongest characters). The writing was horrible, and inspired many people to read the manga to rid themselves of the bad taste Root A left them with.

Dishonorable Mentions:
Aldnoah.Zero 2 - Lalala, I have a Magic Eye. Rental Magica in space + Slaine.
Symphogear GX - This sequel was so bad the previous season's villain had to come back from the X-Zone with no explanation in order to save it.
Nisekoi: - There's still no resolution, and even worse - there's more girls.
Dragonball Super - and you thought Dragonball GT was bad.
High School DxD Born - When you have to censor the only thing people watch your show for, you know you have fucked up.
LOSER: Gunslinger Stratos - It's not easy to create any type of world that involves fictional technology or magic, but it's very easy to make a mess. Enter Gunslinger Stratos, a show so ambitious that its entire premise hinges on a grandfather paradox. The main villain who is from the future a believes that all of humanity should die, goes back in time to destroy humanity even though it has massacred everyone in the future. Throw in a dash of alternate reality dopplegangers who have equally non-existent development as the 'originals', and you get a show that is confusion incarnate. The best way to describe the story of this show is that a sand monster from the future tries to destroy the world by going back in time and advancing technology, but is prevented by the cast of Final Fantasy XIII.
Dishonorable Mentions:
Symphogear GX - "My power eats my memories as fuel!" Except it clearly doesn't, until the very end where evil has amnesia and good is dying. GATTAI! Happily ever *baaaaarrrrrrffffff*.
Asterisk - "My superweapon eats blood!" "My superweapon shows me my death every night in my dreams!" "My superweapon forbids me from going easy on people!" Wat. Also: "I exist to protect you, because I've just met you and you're hot."
Chaos Dragon - Completely uncompelling characters are driven by a terrible power that is meant to bring out an emotional response, but results in "meh, who cares" every time.
Motherfucking Sky Wizards - Taken directly from a How To Write Anime book.
KanColle - For creating a meandering story which badly reimagines history, poorly motivates characters, misuses game mechanics until it decides to ignore them entirely for DRAMA, and then badly moves back and forth between DRAMA and Slice-Of-Life amusement.
Aldnoah.Zero 2 - For bringing back 3 characters from the dead for no reason. Considering the first season wasn't exactly great it manages to plummet even lower. Also, space wind.
LOSER: Rokka no Yuusha - Rokka no Yuusha was supposed to be about the adventures of six heroes on a mission to slay the Demon God. Most of the show was actually spent on seven assholes trying to figure out which asshole was the fake. After the main protagonist figures out who the imposter is (Spoilers - it was the one whose character suddenly goes from positive encourager with a fighting spirit to full-on Yuno Gasai yandere at the end), the "heroes" are now free to start their journey into the Demon God's territory. Except, oh wait, what's this!? A new seventh companion appears! And she's a chubby girl in a cow outfit. Who is the imposter? Or are they all fakes? Guess we'll find out in the second season. The second season that will never happen because Rokka no Yuusha was one of the worst selling series in anime history. For a reason.

Dishonorable Mentions:
Gangsta - Gangsta starts strong, but in the end completely fizzles away, taking Studio Manglobe with it.
Charlotte - Time travel gets (poorly) introduced towards the end and an entire shounen show is condensed into the very last episode. Not to mention the part where the main character steals everyone's powers, amassing them in himself.
Symphogear GX - Hibiki drags her worthless piece-of-shit father home by force, under additional threat of pain, to the horror of her mother and grandmother. Nobody but her wants this to happen, but happy music is playing and it generally treats this as a good ending somehow. ?_?
LOSER: Every Magic High School Show in 2015 - Honestly, The Absolute 35th Sky War of a Vivid Worst Fafnir Break BURST would have been great if it just had a little bit more incest.
(REAL) LOSER, TIE:
Chivalry of a Failed Knight - While this was far and away better than Asterisk every single week, as an adaptation it lost as much quality as Asterisk. The big difference is that while Asterisk was barely on the good side of okay, Chivalry's source material is actually really good, which in many ways makes the drop in quality more painful. In particular, the main character was as disgusted at his little sister's advances as the readers, in both the manga and light novels. In the anime, he just sort of shrugged and ignored it. This was the main factor that turned people off of the show in its opening few episodes, more than anything else, and it was almost completely unnecessary.
Asterisk - Asterisk is here for completely ignoring much of the intrigue and character development that made the source material worth reading, choosing instead to focus on horrible fanservice. You know that conference between all the schools, that they cut away from when the nervous guy starts talking? His speech was the only reason that conference was important enough to even be showed on-camera. You know the other schools they kept talking about? They're full of interesting characters with their own policies, motivations, and powers, nearly all of which are ignored. Basically all of the plot points and even the fight scenes are watered down in favor of adding more and more and more fanservice. Speaking of the fight scenes, many of the visual effects used in them are just plain DUMB. The attack pictured, Conjoined Cranes, is one of the more interesting technique concepts in the source material. What the hell is that visual even supposed to be? Tangrams?

Dishonorable Mentions:
Tokyo Ghoul Root A - "That can't be right. I think I'll read the manga to see what really happens. OH WOW, the anime conflated multiple separate events into one thing multiple times and didn't bother to explain any of these really important characters. AND they left off almost a third of the story, including the entire ending."
KanColle - A game with practically no story to get in the way of whatever the anime team would like to do, beyond the personality of the cast. So they decided to halfass a Japanese Imperialist's wet-dream of The Pacific War, apply game mechanics until they get in the way (and then ignore them), and fail to feature the majority of the game-fan-favourite characters.
Disclaimer: Blatant ecchi shows are discounted from this list because the fanservice is the entire point of watching it. To qualify a show's fanservice must detract from the show itself.
LOSER: Asterisk - Most shows (that aren't ecchi as the entire point of the show) have one ridiculously over-the-top fanservice character, maybe two tops. This show proudly creepshots the youngest cast member - who has the largest bust of the cast - in every inappropriate camera angle it can find. It also makes the youngest-looking character incredibly sexually aggressive, includes a flirty older girl, and goes over a girl taking vampire bites out of her little sister's neck in loving, overly suggestive detail. Again, very little of this was in the source material. The worst was the shower scene, where it spent about 10 minutes having the youngest-looking girl trying to grope the youngest girl, with the latter fighting off the former, in towels with some steam. They drop the towels when the protag walks in. All of this was done with maximum animation budget; the fight scenes in that episode were instead made with duct tape and marionette string.
Dishonorable Mentions:
Heavy Object - With the source material being quite so well-supplied in the first place, one has to wonder why the anime felt it necessary to insert more without any attempt to justify the placement. From a steamy shower scene in the middle of unrelated exposition to an explosion propelling the male lead into a girl's chest palm-first, to a lingering close-up of a panty-clad crotch (that was already intentionally visible), the gratuitous shoved-in tat is blatantly clumsy and quite distinguishable from the equally tawdry but far more skillfully applied original material. Again, there was enough of the latter anyway, why add more in such a poor fashion?
Chivalry of a Failed Knight - Unnecessary stupidity and fanservice not present in the source material - much like Heavy Object above. But if there's less of it, it's more fundamentally offensive, as it actually alters the characterization of the cast as opposed to just being a waste of space.
School-Live! - Cute girls doing cute things in the Zombie Apocalypse… And boobs, because they're female, so boobs. Right?
DanMachi - Just...no.
LOSER: Slaine (Aldnoah.Zero 2) - "Fuck Slaine."
Dishonorable Mentions:
Ichijou Raku (Nisekoi:) - A scientific study in advanced building materials, Raku is one of the densest beings on the planet.
Tooru, Kyouma (Gunslinger Stratos) - Dual wielding guns doesn't make you cool! Fighting your bland doppleganger won't help either.
Amagiri Kirito Ayato (Asterisk) - You could have saved at least some of this show, you milquetoast piece of shit, but you didn't. God damn you.
LOSER: Hestia (DanMachi) - She has earned her spot here by being The Clingy Jealous Girlfriend taken to 11, with the single worst fashion statement of the entire anime year. Hestia is a terrible character, the writers used her in a terrible way, and honestly the whole series may have been better off without her. (She barely shows up in the spinoff manga and it's FANTASTIC.)
Dishonorable Mentions:

Toudou Kirin (Asterisk) - The fanservice-iest character in a show that got completely ruined by its fanservice. YOU'RE 13, PUT SOME CLOTHES ON.
Carol Malus Deinheim (Symphogear GX) - She's obnoxious, overpowered, and self-contradictory. The directors mentioned in interviews that she was written based on "an all-powerful Showa-era magical girl". Ugh.
Kyouka & Shizune (Gunslinger Stratos) - An airhead pink-haired girl and a loli - need we say more? The best moment for Shizune's character is the fact she died. BUT THEN SHE COMES BACK AS AN AVATAR FOR THE TIME-TRAVELLING SANDPEOPLE VILLAINS.
Haru (Nisekoi:) - Insane Troll-Logic Psycho. You know it's bad when more people hate her than Chitoge.

LOSER: Delays and Rescheduling (Kekkai Sensen)
(REAL) LOSER: Carol Malus Deinheim (Symphogear GX) - A horrible loli written as a ridiculously powerful magical girl, Carol is fucking insufferable. She manipulates the heroes over the entire first three-quarters of the anime, contradicts her own motivations as well as her explanations on how her powers work, and has the immense bad taste to numerically describe her power level in the final battle. Also, she has a Sexy Adult Villainess form with revealing armor, Just Because™. The only good thing about her is her transformation theme song, which is way better than she deserves.
Dishonorable Mentions:
Ikki's Dad (Chivalry of a Failed Knight) - Even when Ikki has proven beyond a shadow of a doubt he is worthy, his dad still tells him to stop because other commoners might get uppity: If worthless people show they aren't worthless, other worthless people might try to prove they aren't worthless. The bastards.
Slaine (Aldnoah.Zero 2) - *incoherent screams of rage that are lost to the roar of space wind*
Golden Frieza (Dragonball Z: Resurrection 'F') - Take an outdated weapon, make it gold-plated, and hope that somehow makes it a better weapon.
Sand-people/Timekeepers (Gunslinger Stratos) - We spent more time than we would like to admit watching this show and we still can't remember a damn thing about why they were there. If you can explain them to us in a comment, congratulations.
Every Villain (AntiMagic Academy 35th Test Platoon) - We couldn't think of a good villain so we had an intern make angry grunting noises.
Wo(Town)-Class Carrier (KanColle)- Defeated off-fucking-screen after no effective actions, despite being built into a Nemesis figure.
LOSER: Goku (Dragonball Super) - Dragonball has a long history with new power ups coming from prolonged training, emotional moments, and deus ex machinas. Dragonball Super continues that tradition by introducing Super Saiyan God mode after first appearing in the Battle of Gods movie. This transformation is temporary (except when it's not) and is used against villains that are basically palette-swaps of existing Dragonball baddies. In order to achieve this transformation, five pure-hearted Saiyans must hold hands in a circle around Goku. A group of pure-hearted Saiyans that somehow includes Vegeta.
(Side note: Considering that Saitama broke his power limiter and his power level is essentially infinite, Super Saiyan God Super Saiyan Goku Blue Ultra Power Edition still has a long way to go before he can take on One-Punch Man.)
Dishonorable Mentions:
Amagiri Ayato (Asterisk) - He was so powerful, the story opens with his sister sealing him as a small child, before disappearing.
Kagami Junichirou (Denpa Kyoushi) - He was a genius scientist, invented a Dokodemo Door, and then got bored and became a NEET. All before age 19.
Bell Cranel (DanMachi) - He's strong because he has a one-sided crush. What the hell.
Otosaka Yuu (Charlotte) - He can literally take anyone and everyone's power for good, adding it to his personal arsenal of superpowers.
Dishonorable Mentions:
Isuca - A boy with the power to see through people's true names meets an exorcist and accidentally makes her his sex slave. Somehow it's not quite hentai. Then he learns her sister's true name too (putting her on the level of her sister as well). Somehow it's STILL not quite hentai.
Denpa Kyoushi - A mediocre manga got an awful adaptation, with an emphasis on terrible animation.
5) Motherfucking Sky Wizards - Motherfucking Sky Wizards™ was so bad, none of the Animasochists wanted to watch it. Thus, we had to pull in a temporary Animasochist. (Yes, apparently you can be one temporarily. I got better, but occasionally - FUCK SLAINE!!! - I relapse.) According to our temporary Animasochist, it was "aggressively mediocre", making him think it was "made by a high school anime club" that didn't necessarily do everything wrong, but also "failed to do anything right." "I find myself being overly forgiving due to an enduring (and probably false) assumption that it was made by people who were entirely new to anime and thus should be granted license in the hope that they'll do better in the future…"
4) Shoumin Sample - In a misguided attempt to make sheltered rich girls slightly less sheltered, their all-girls school decided to bring a commoner on campus as a research subject. But how to keep the girls safe? Well, find a kid on the street who looks gay and kidnap him. Sounds like a great plan, right? Well, it is, except he's a pervert, a troll, and heterosexual. But if he doesn't keep them all convinced he's gay, they'll castrate him. GREAT PLAN.
3) Aldnoah.Zero 2 - With possibly the greatest retcon in recent anime history, Aldnoah.Zero Season 2 doesn't even bother trying to salvage its story from the first season. Instead, it introduces more terrible plot elements including, but not limited to - creepily keeping your waifu alive in a bacta tank, pretending to be into her sister to gain power and influence while you still visit your bacta-tank-waifu every night, space wind, a magical cybernetic eye that is based off of a misconception about how the brain functions, bringing 3 previously dead characters back to life, and many more delightful little balls of enjoyment.
2) Chaos Dragon - Imagine Akame ga Kill levels of killing off characters, add in the failure to elicit an emotional response of Guilty Crown, and then try to stretch this story across some sort of tale about a prince who has super-dragon-powers, which require him to sacrifice the life of someone dear to him to use them, trying to save his nation. There are thrilling adventures through poorly-written global politics, a bunch of characters that you don't care about because they are essentially half a character's worth of information trying to fill an entire cast's development, and deaths that utterly fail to make the viewer feel any sort of loss. In all aspects of the show, you will be disappointed past the point of laughing at its failures.
1) Gunslinger Stratos - Gunslinger Stratos may not have been the worst show we've ever seen (definitely the worst from this year), but in all categories it fails to engage in every single way, with bland characters, forgettable villains, and awful writing it was the worst show we collectively watched. Did we say bland characters? Sorry, we meant two of every bland character. Just in case you didn't like the first one, there's another copy of them from an alternate universe for you to hate as well! With writing that makes little to no sense, you would think "maybe the animation will be good," but do not be fooled - it's a compliment to call this animation "sub-par" and leave it at that. The terribleness of this show cannot be fully expressed in words, so let us sing you the song of our pain -
---
There are many different kinds of Animasochists, but we all agree on one thing - bad shows must be watched. The Golden Slaine Awards are a chronicle of the worst of worst in our varied experiences watching anime. If you aspire to become one, 1) Don't 2) If you must, join in the suffering and watch bad shows.